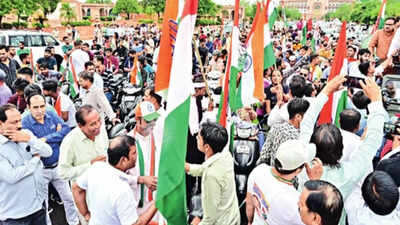 Congress workers stage protest during Tiranga Yatra at Amar Jawan Jyoti in the city on Sunday
JAIPUR: Following a series of violent protests against the Centre's newly announced Agnipath recruitment scheme for defence forces, authorities in Jaipur and Dholpur invoked Section 144 as preventive measures to avert flare-ups.
Additional commissioner of police Ajay Pal Lamba on Sunday signed orders to enforce Section 144 for the police commissionerate limits, effectively prohibiting unauthorised rallies, protests etc.
The city police also warned people from posting inciting messages on social media that could disturb public peace. These orders will continue till August 18.
The Dholpur district administration on Saturday issued asimilar order under Section 144. The order cites the "misconception" about Agnipath, and in view of the violence that took place on the JaipurDelhi highway, vandalism at railway stations and attempts to torch a bus in the district's Rajakhera area.
The district administration has also barred all rallies and protests without prior permission from the requisite officials. The preventive measures will remain in force till June 25.
In another significant development, an association of coaching institutes on Sunday called for two days of holiday on Monday and Tuesday in solidarity with students protesting against the Agnipath scheme. Anish Kumar, state president of the All Coaching Mahasangh, said that the coaching owners have expressed their support to students opposing the "contractualisation," of defence forces.
'We have appalled to all students to protest peacefully, abjure violence and not to damage public property," he said. The state has seen protests raging through different cities and towns from Wednesday onwards. On Friday, however, the situation turned tense in multiple cities when protesters vandalised a railway station in Sikar's Sri Madhopur and wrecked a bus in the Neema ka Thana area of the district.
On Saturday morning, protests poured onto the Jaipur-Delhi national highway in Behror in the Alwar district before police used force to push them away.
The announcement of the new scheme ignited protests that have left the police officials to confront the fallout, for instance, police fired tear gas shells when some protestors in Bharatpur district on Friday sat on railway tracks.
FOLLOW US ON SOCIAL MEDIA
FacebookTwitterInstagramKOO APPYOUTUBE