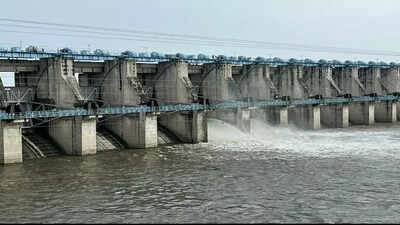 Bisalpur dam in Tonk district.
JAIPUR: Amidst chanting of mantras, two gates of Bisalpur dam in Tonk district were opened on Friday morning after its water level breached its full capacity of 315.50 RL/metre.
This was the sixth time in the history of the dam when the gates were opened. The last time the gates were opened was on August 20, 2019. Released water will be diverted to low-lying areas in Tonk and Sawai Madhopur districts for irrigation.
Since Thursday, the authorities were waiting for the water level to reach the point when they could open the gates.
"On Thursday, the water level was 315.38 RL/metre against full capacity of 315.50 RL/meter. We had anticipated that the dam is likely to attain full capacity by 8 am on Friday. Thus in presence of Tonk district collector Chinmayee Gopal, gate no. 9 and 10 were opened," said Manish Bansal, executive engineer, Bisalpur dam.
"These two gates will remain open for a day. We will review the situation on Saturday morning to decide on closing it," Bansal added.
The dam has 18 gates. Officials said with the existing amount of water in the dam, it can supply water to three districts for 18 months.
Prior to opening of the gates, a siren was blown to alert villagers in the low lying areas.
Chinmayee inspected the functioning of the dam and was informed on the water flowing from Triveni to the dam.
Bisalpur dam caters to the drinking water needs of Jaipur, Ajmer and Tonk districts.
It may be recalled that foundation stone for the construction of dam was laid by former chief minister Shiv Charan Mathur in 1985 and construction started in 1987. In 1999, construction was completed and in 2004 the dam got fully filled for the first time. A large number of people were present at the site to witness the opening of the gates.
FOLLOW US ON SOCIAL MEDIA
FacebookTwitterInstagramKOO APPYOUTUBE