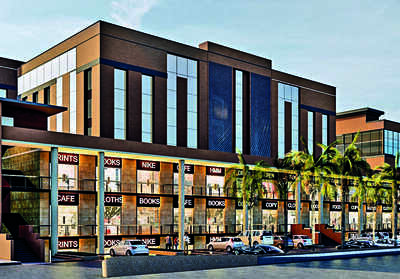 Jaipur: Setting a new benchmark in the real estate market, Rajasthan Housing Board (RHB) on Wednesday earned a whopping Rs 55 crore by e-auctioning 30 showrooms in the recently constructed coaching hub project at Pratap Nagar.
A total of 727 bidders participated in the bidding process, which continued till 1.30 AM. RHB commissioner Pawan Arora said, "Of the 90 showrooms constructed on the lower ground floor, upper ground and first floor in the coaching hub project, 30 showrooms were auctioned in the first phase. After this massive response, we will hold the auction for the remaining showrooms in August."
As per the figures, upper ground floor showrooms received the highest response and were sold for three times more than the lowest bid price of Rs 49 lakh. Lower ground floor and first floor showrooms were auctioned at twice their minimum bid prices of Rs 39 lakh and Rs 35 lakh respectively. In the Coaching Hub project, two plots measuring 1,700 square metres for guesthouse, hostel and studio apartment purposes were also sold at more than one and a half times against the minimum bid price of Rs 49,000 per square metre.
RHB hopes to earn Rs 450 crore from the entire coaching hub project. To streamline the coaching industry, the board had proposed that the hub would accommodate nearly 70,000 students.
"Phase I of the project comprises five towers, and work is on the verge of completion. Under the project, different sizes of units measuring 500 square feet to 6,000 square feet are being constructed. Applications will be invited as per the size. If we receive more than one application, the allotment will be done on the lottery basis," said an official.
RHB's earning of Rs 86.30 crore from the auction of 163 properties across the state in a single day signals a revival in the real estate market.
According to an official, RHB also auctioned a big commercial plot measuring 1,200 square metres at Indira Gandhi Nagar, Jagatpura, in the state capital. It earned double the revenue from the minimum bid price of Rs 48,000 per square metre. After auctioning, RHB received a revenue of Rs 18.43 crore from 18 premium properties, Rs 13.17 crore from 100 residential properties and 13 commercial properties.
FOLLOW US ON SOCIAL MEDIA
FacebookTwitterInstagramKOO APPYOUTUBE